Pathelen Alkaline Vitalty Complex Presentation (standard version) 23.6.20 TP.pdf
RESTORING OPTIMAL FUNCTIONS OF THE IMMUNE SYSTEM
Pathelen® Alkaline Vitality Complex promotes an optimal extracellular pH of the lymphatic system in order to develop a healthy immune system.
This holistic approach is an integral part of eastern medicine and recommends a specific diet and/or exercise in order to reach a better pH. Observational studies have shown that to reach an optimal pH through nutrition takes a comparatively long time, i.e. up to 18 months.
Therefore, the nutritional path is better suited as a long-term lifestyle than a treatment against diseases. The special selection of ingredients as well as the unique manufacturing process ensure that Pathelen® Alkaline Vitality Complex's immune boosting abilities can be beneficial for long term as well as short term use.
WHY IS PATHELEN ALKALINE VITALITY COMPLEX SO EFFICIENT?
The ingredients of the Pathelen® Vitality Complex (Booster) have continuously been improved over the last 4 years. To generate significant positive extra- and intracellular effects the use of only the ingredients are not sufficient. It requires a special cavitation process.
Without further treatment of the PHC teams' novel approach to the cavitation process, the contained active ingredients would not have an influence on cell respiration and tension.
A highly alkaline base is generated by the cavitation process.
Tiny little gas bubbles that surround groups of OH- ions and thus prevent the highly reactive hydrogen ions from interacting with particles outside the gas bubble. Only in this way can a large proportion (80-90%) of the OH- ions penetrate the Gastric acid passage. An extremely high electron concentration is generated in the solution.
This high electron concentration generates the rapid increase of the pH values of the intra- and extracellular matrix and an optimal nutrient supply of the cells or the "disposal" of the intracellular waste products. If the cell tension is optimized to 70 mV again, it will drastically slow down the cell aging process. The booster is an anion with extremely high energy density.
This is the special feature of the booster, compared to normal H2O, the booster solution has an up to 100,000 times higher energy density, which also has a direct positive effect on the intracellular charge and reregulates the optimal supply and disposal of cells.
THE FOUNDATION OFPERMANENT HEALTH - AN ALKALINE BODY!
Otto Heinrich Warburg, (8 October 1883 – 1 August 1970), son of physicist Emil Warburg, was a German physiologist, medical doctor, and Nobel laureate. He served as an officer in the elite Uhlan (cavalry regiment) during the First World War, and was awarded the Iron Cross (1st Class) for bravery.[2] He was the sole recipient of the Nobel Prize in Physiology and Medicine in 1931. In total, he was nominated for the award 47 times over the course of his career.
The permanent health of the human body by Dr. Warburg's knowledge requires an alkaline organism. Acidification is therefore the foundation of almost all diseases and is almost unchallenged today. Acidification can be prevented by eating a healthy diet, but if there is acidosis in the organism, it is very difficult to eliminate it purely by changing the diet. Chronic acidity often develops through an unhealthy and unbalanced lifestyle. Stress, lack of exercise, plenty of stimulants and high meat consumption form far too many acids that our organism can no longer cope with. It is estimated that 70-80% of the population have an acidified organism. This results in a variety of complications. The activity of the immune system is particularly impaired.
'NO DISEASE CAN EXIST IN AN ALKALINE ENVIRONMENT!' Otto Warburg
ACIDOSIS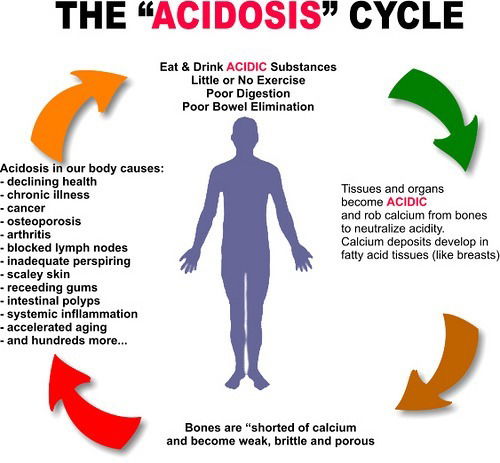 Understanding the effects of acid–base balance on the inflammatory response is highly relevant to clinical medicine for a variety of reasons. First, current deficiencies in our understanding of the effects of acidosis on a wide range of cellular processes have led to controversy in the way in which patients are managed in a variety of clinical settings.
Most clinicians tend to ignore the effects of exogenous Cl- on pHo, but many will treat even mild forms of acidemia. In addition, all forms of metabolic acidosis appear to be associated with prolonged hospital and intensive care unit length of stay. Because metabolic acidosis is both commonly caused and treated by clinicians, an understanding of the physiologic consequences of altered pHo is imperative.
EXAMPLES OF DISEASES & CONDITIONS THAT ARE CAUSED BY HYPERACIDITY
There are different mechanisms, especially acids in our body that lead directly and indirectly to various disease symptoms, with some being life-threatening diseases.
In an acid environment, certain diseases and illnesses develop extremely well, conversely these illnesses overacidify our body even more, a vicious circle!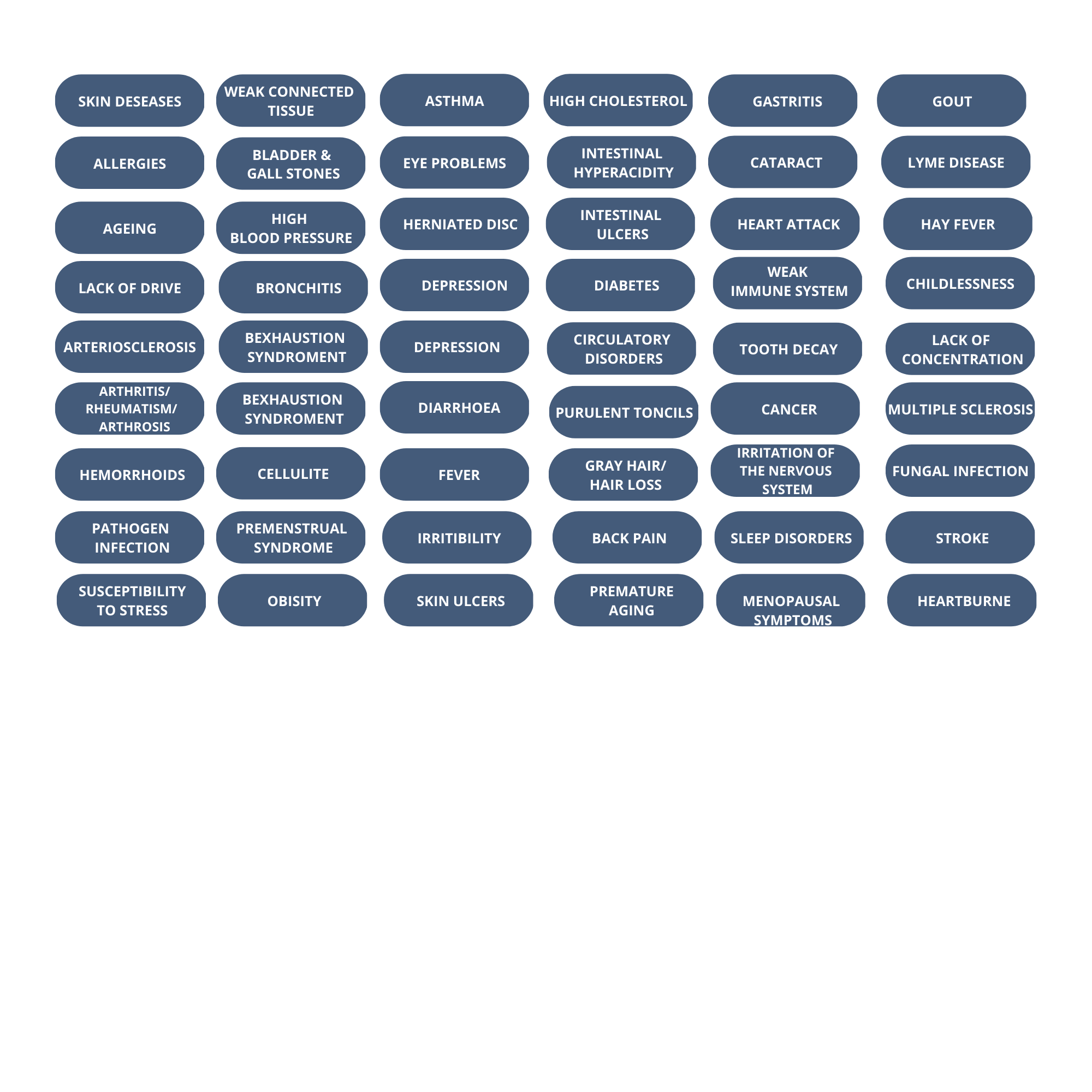 INGREDIENTS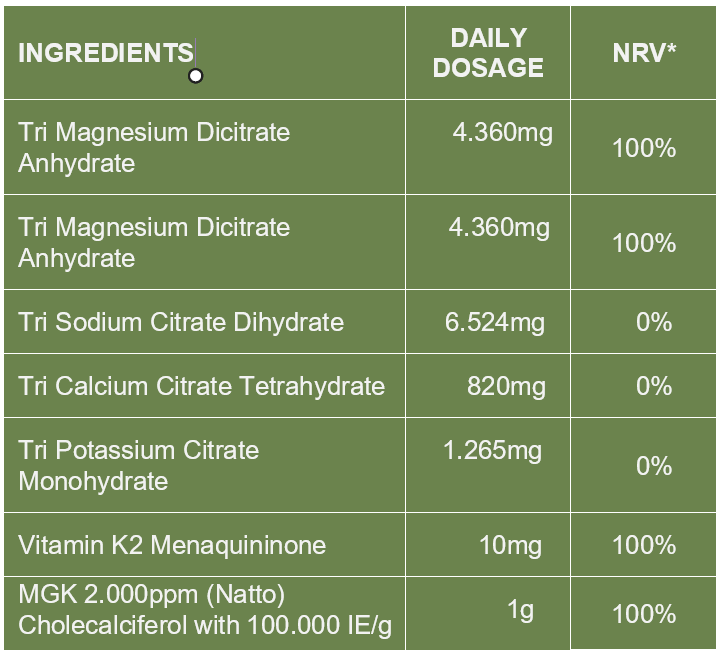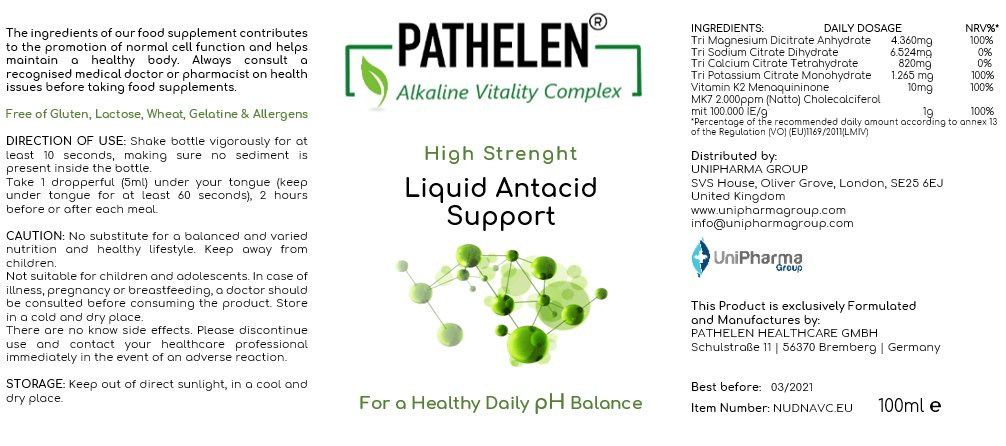 Pathelen® Alkaline Vitality Complex qualifies as a dietary supplement as it is not acting directly on diseases but is supporting the development of a healthy immune system then to fight them off.